Energy gateway RFPM-2M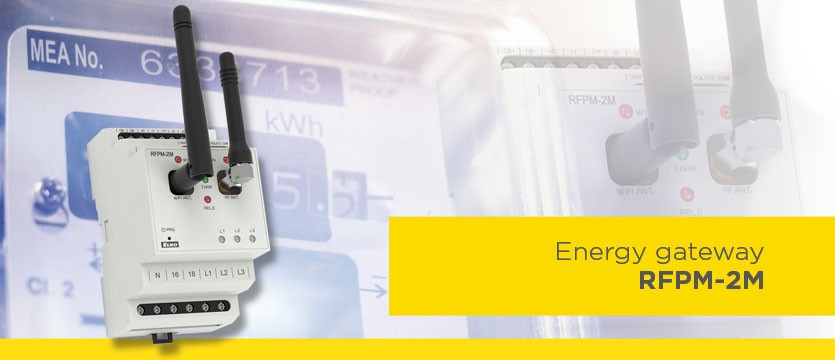 Dear customers, let us introduce our solutions for measuring energy (electricity, water and gas).
Why should you decide to measure energy through the iNELS RF Control products?
Thanks to battery power for pulse transmissions, fast connection to existing power gauges
Solutions not only for home, but also for corporate and industrial monitoring
With internal memory of 2 gigabytes energy gateways data is stored directly for you, eliminating theft and misuse of data
As part of our implementation to OEM companies and customers, we provide an "API" to integrate into your own cloud, making your business completely independent of cloud storage and standard fees.
As part of the solution, you can collect data on up to 4 tariffs, which gives you a detailed overview of the costs
The Energy Gateway wirelessly communicates with the pulse transmitter (up to 50 m away), which measures the meter measurement itself
By connecting current transformers up to 50A to the energy gate, you can monitor under voltage, overvoltage, current and power factor in individual phases
The integrated relay in the power gate provides a shutdown protection function that results in protection against the degradation of the device, such as a refrigerator or a lathe
Viewed through web interface or application gives a clear and intuitive view of consumption in days, weeks and months, in measured quantity, or directly in financial costs
You can try the promo application here:
http://217.197.144.56:2130/
login: admin
password: admin
Date of publication: 15. 09. 2018
Information about the company
ELKO EP is one of the world's leading manufacturers of electronic equipment for residential, office and industrial automation. We have been supplying the world over for the past 27 years; our main domain is primarily relays, but we also supply wireless products and IoT products. But we're not just focused on products; we also propose comprehensive and highly effective solutions.
Our branches are located in 13 countries around the world, but all developments and production takes place in our own premises in Holešov. Thanks to this background, we have received several important awards, such as the Visionary of the Year 2015 or the Global Exporter in 2016.
Calendar
Customer Centre
Reception
| | |
| --- | --- |
| | +420 800 100 671 |
| | elko@elkoep.com |
Technical support
| | |
| --- | --- |
| | +420 573 514 242 |
| | support@elkoep.com |