Football lounge with ELKO EP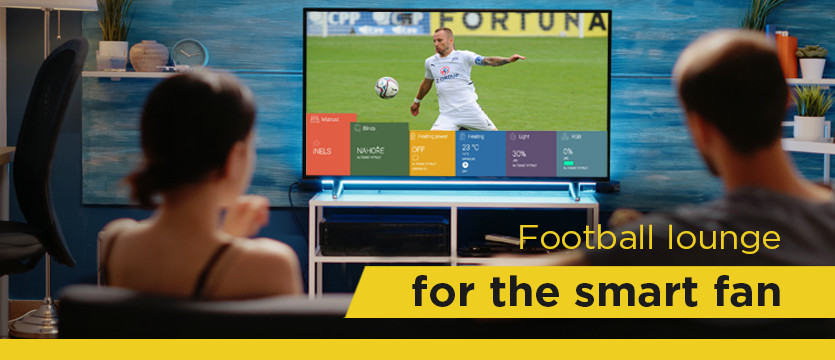 Are you a football fan? So are we! ELKO EP has been the official partner of the football league for several seasons now, and our intention is that you get something out of it too.
Once a month, we invite you into the "football kitchen" with the football podcasts "About Football Intelligently". Fans will learn more about the behind-the-scenes of football - the work of physiotherapists, data analysts, fitness specialists and others involved in analysing data from training sessions and matches. "As a company that makes smart features for homes and offices, we wanted to partner on a project that would bring fans valuable information and worlds that don't get talked about much. In the same way that we cheer for intelligence in building management, we also cheer for data in football," explains Jiří Konečný, head of ELKO EP, a major manufacturer of smart wiring.
And we'll stick to smart buildings. As part of our regular Football Lounge section, we can take a look inside the homes of your favourite sportsmen and women who actively use smart technology. And so, after each league round, one of the league's players takes us into his living room for a visit.
And you can easily have a smart living room at home too. It doesn't have to be just the living room - your whole house can be smart!
Do you want your blinds to work without much intervention from you? To have the lights regulated according to the sunlight? That the heating is economically regulated according to your comfort requirements? With iNELS technology this is no problem! Control your apartment and house with your mobile phone, key fob or even your smart TV. The technology adapts to you. See for yourself here: https://www.inels.cz
Come and enjoy football with us and be inspired by smart technology. Let's play football smart.
Date of publication: 27. 10. 2021
Calendar
Customer Centre
Technical support
| | |
| --- | --- |
| | +420 800 100 671 |
| | support@elkoep.com |
SALES
| | |
| --- | --- |
| | +420 573 514 221 |
| | sales@elkoep.com |