Light up the surroundings with one touch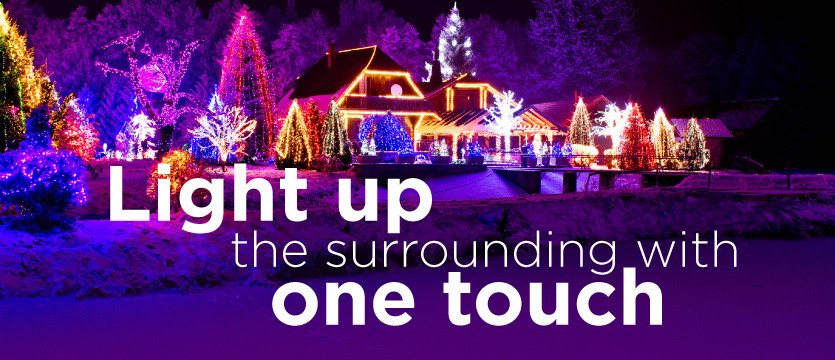 The most beautiful time of the year is here. The gardens are no longer immersed in autumn grey, but instead shine with beautiful lights and remind us of Advent.
How about letting smart technology take charge of your Christmas decorations this year? Let it turn on and off, flash and control itself remotely? It's no problem...
Decoration
Do you want your decorations to flash to your rhythm? The CRM-2H time relay with independently adjustable switch-on and switch-off times can also be used for this purpose, and can similarly ensure regular room ventilation, control circulation pumps and more. It allows the time to be set from 0.1 seconds up to 100 days and is divided into ten ranges.
On/off automation
Let the lights themselves know when it's dark and they should turn on - this is also possible. The SOU-2 dusk and light digital switch is just the thing for controlling the lights based on ambient light levels and set times. It is possible to switch off the device in automatic mode, permanently manually or randomly. The device also takes into account the economic aspect and allows blocking the function of the twilight switch at times when switched lighting seems unnecessary. Of course, you can only control the lighting according to the set time, ideally with the SHT-1 digital switching clock.
Colour play of lights with LED strip wirelessly
You can mix the RGB colours of the LED strips with the RFDA-73/RGB dimmer and one of the controllers (RF KEY,RFWB-20/40). Up to XX meters of XW RGB LED tape can be connected to the dimmer - so you can really light up the whole "Christmas tree". In addition, via the eLAN-RF smart box, you can control the lighting, select colours, trigger scenes via the iNELS app with your smartphone.
Another option to control the lights wirelessly are wireless switching elements (RFSA-61M = 1x output, RFSA-66M = 6xoutput). Each of the outputs can be controlled by up to 25 channels (buttons from the controllers). The lighting can then be controlled by a push-button wall controller with two (RFWB-20/G) or four buttons (RFWB-40/G), via the RF Key.
With the RFIM-40B, it is also possible to change a "wired" button into a "wireless" button with a range of up to two hundred meters.
Or do you wish to control your decoration comfortably with your mobile phone? Thanks to the eLAN smart box, it is also possible to connect it to an app on your mobile phone.
Date of publication: 02. 12. 2021
Calendar
Customer Centre
Technical support
| | |
| --- | --- |
| | +420 800 100 671 |
| | support@elkoep.com |
SALES
| | |
| --- | --- |
| | +420 573 514 221 |
| | sales@elkoep.com |