The new wireless thermovalve RFATV-2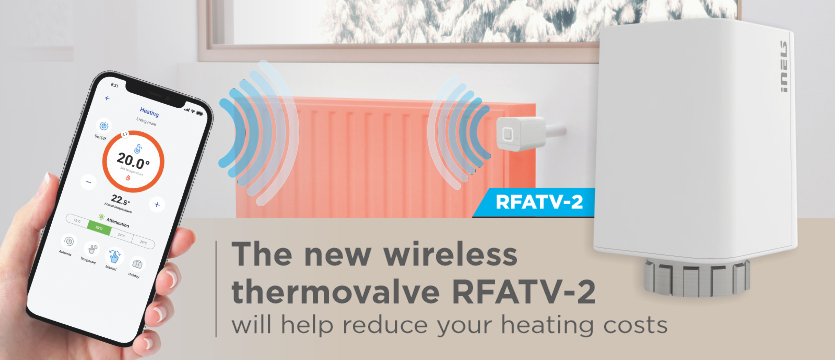 Dear customers,
We would like to introduce a new product - The Wireless thermovalve RFATV-2 which reduce your heating costs.
This valve is part of the iNELS Wireless system and its used to measure and regulate the temperature in rooms.
The Wireless thermovalve works by measuring the temperature in the room with an internal sensor, opening / closing the radiator valve based on the set program in the system element.
In order to be able to use the head within the system or even separately, you need the system unit eLAN-RF-103, which allows you to connect the head with the app, set it up and control it. Both locally and remotely. Connection to the eLAN-RF-103 gateway is then possible both directly via a static IP and via the iNELS Cloud, so that the connection to the valve unit will always be available according to your security requirements.
You can connect up to 30 wireless heads to one eLAN-RF and control them separately or simultaneously as part of a unified heating control system in your house or apartment.
The wireless thermal head is the simplest possible solution for controlling hot water radiators, where the valve simultaneously controls and measures the temperature in the room. However, it can also be used to regulate the valves in the distribution board. In such a case, however, it is necessary to use a temperature sensor from another element of the iNELS Wireless system, for example, the System Thermoregulator RFTC-10/G or the Temperature and Humidity Sensor RFTI-20.
RFATV-2 has a number of smart functions. For example, it can recognize if a window has been opened in the room and you will never needlessly heat the room again during ventilation.
The valve also prevents the temperature from falling below 5°C when the heat source is switched on and the water in the hot water pipe freezes.
Another feature is the function that prevents the valve from becoming stiff, which often happens due to calcareous deposits in hot water pipes. To prevent this problem, the head is opened and closed once every 7 days.
The valve comes with 2x AA batteries and the base is compatible with M30x1°.5 valves. Unlike the previous version, adapters for other types of valves are no longer included in the package.
You can buy RFATV-2 themovalve on this link.
Date of publication: 29. 11. 2022
Calendar
Customer Centre
Technical support
| | |
| --- | --- |
| | +420 800 100 671 |
| | support@elkoep.com |
SALES
| | |
| --- | --- |
| | +420 573 514 221 |
| | sales@elkoep.com |